Business IT Support
Device Doctors technicians are able to assist on all manor of Business IT Support issues. From network upgrades to support on site, we have your back.
We come to you
Fully VAT registered
5-Star Rated
Fully Trained
We come to you
We come to you to you with no additional call out charge.
Top-Quality Service
Device Doctors technicians are fully trained, friendly and sort issues efficiently.
Microsoft Partners
Device Doctors are Microsoft partners, allowing us to offer the very best software to you.
What our customers say about Business IT Support:
Device Doctors Business IT Support-
Why do our customers choose us?
We understand that a reliable IT system is vital for the day to day operation of your business. We provide only the highest level of support, with the majority of issues fixed within 1 hour of arrival.

We are a mobile business and believe you should always see one of our technicians if needs be to get an issue sorted, as a result we don't charge any additional call out for our support team to come out to you.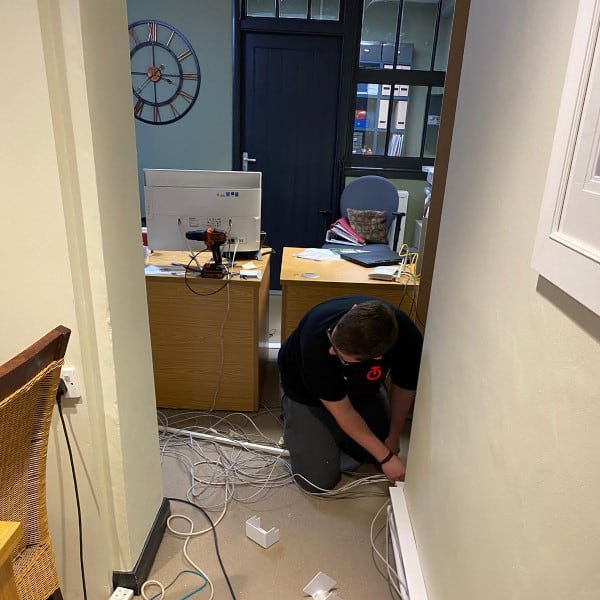 What services do we commonly offer in our Business IT Support?
Tech Support – Helping with day to day tech issues, leaving you to do what you do best.
Business Licencing – Setup and support with Microsoft Office and other licences.
Hosted e-mail setup and Support – Email setup through Microsoft Exchange, support and migrations.
Web Design, Hosting & Support – Competitively priced hosting, web design and support.
VOIP and Server Setups – Ensuring your inter-team and customer communications are working perectly.
Printer Setup and Support – Offering resolution for all hardware, software and network issues.
Password management and recovery – Passwords can be a nightmare, we can help you reset them, and advise on how to store them safely.
Network Support – Network infrastructure improvements, ensuring seamless connection.
Upgrade advice and sales – Advice and upgrades on your current IT Systems.
Hosted Backup – Ensuring your files are safe.
Business IT Support
How do we work?
We sell support hours in bulk packages and also pay as you go, there is no call out fee and we are fully VAT registered.
Hourly Support
Purchase pay as you or bulk support blocks from us at great prices.
Projects
For larger projects and installations quotes will be made bespoke to meet your IT needs.
Our Other Services
Click on any of the below to find out more
We are specialists in both Windows and Mac operating systems. Therefore we can repair or upgrade your computer or sell and help you to set up a new one.
From dodgy printers to emails not working as they should sometimes your tech can go wrong. As a result, our fully trained technicians come out to your home to sort out any issues you may be having.
We offer affordable outsourced IT support for businesses. Hence taking the worry away from your IT.
Device Doctors bring phone and tablet repairs straight to your home or workplace. We fix your device in the back of our fully kitted out vans.
Being specialists in technology allows us to sell the very best devices, each device hand-tested and with our 12-month Device Doctors warranty.
Device Doctors offer the support and setup of both smart home devices and home security.
1 Support Session = 1 Tree
Our climate change pledge
For each support session, with the help of Tree-Nation, we will be planting a tree called a Dalbergia sissoo or Indian Rosewood, in Nepal. These trees reach 20-30m tall and have a lifetime CO2 offset of over half a ton at 580KG. We will be planting as part of the Eden Projects, which began in 2015 and has a main focus on restoring forests in areas of critical importance and improving local livelihoods.
The cost of repair will not change as a result of this, we just want to make sure we are both offsetting our companies emissions and helping to make a difference!