Device Doctors Waterlooville
Mobile Tablet & Computer Support & Repairs
Device Doctors offer top quality, reliability and great service device support and repairs straight to your door in Waterlooville.
We come to you
We deliver all of our services to your home or workplace in Waterlooville and get things done fast.
Skilled Technicians & High-Quality Parts
Our goal is to offer the very best service to you, which means we only send out the best technicians and use the best parts when needed.
Trusted by Thousands
With 5-Star reviews across Waterlooville and surrounding areas, we pride ourselves on offering a service you can rely on, no matter the tech issue.
What do we offer across Waterlooville?
Click on any of the below to find out more
We are specialists in both Windows and Mac operating systems. Therefore we can repair or upgrade your computer or sell and help you to set up a new one.
From dodgy printers to emails not working as they should sometimes your tech can go wrong. As a result, our fully trained technicians come out to your home to sort out any issues you may be having.
We offer affordable outsourced IT support for businesses. Hence taking the worry away from your IT.
Device Doctors bring phone and tablet repairs straight to your home or workplace. We fix your device in the back of our fully kitted out vans.
Being specialists in technology allows us to sell the very best devices, each device hand-tested and with our 12-month Device Doctors warranty.
Device Doctors offer the support and setup of both smart home devices and home security.
So what do our customers from Waterlooville say about Device Doctors :
What a fantastic service! Whole repair took just over an hour and was done in a van in the driveway. They handed the phone back to me and it was like it was brand new! No marks or scratches anywhere! So pleased with this 🙂
Carole CaroleB
2023-07-03
Thank you Device Doctors! Started with your article reminding us all that we need to keep updated and secure ... my PC was 9yrs old, wouldn't upgrade to Windows 11 (10 obsolete in a few years) and soooo slow! Most of transferring to my new laptop worked fine, but Outlook did not want to communicate with my provider (TalkTalk, despite it's reputation I have been extremely happy with) Graham worked through the issue and I now have a whizzy machine up and running. Thank you guys!
Really pleased with service received. My ipad screen was badly broken but they were able to fix it. Very polite and reasonable price.
Always found the team helpful and competitive.
A tricky job with some parts that wouldn't play ball first time around. The team at Device Doctors came back out and wouldn't let up until my IPhone 12pro was functioning fully. Customer service & after care is spot on!
I Highly recommend these guys. they came along and fixed my sons IPad pro 12.9 inch, that was nearly folded over. They where professional and got the job done in a reasonable amount of time for the job at hand. I was slightly dubious when calling that they asked for a deposit and they where a mobile service but the guy that took the booking waved the deposit on the understanding that I would be going ahead with the work. Great company and will use them again. Buy with confidence.
Incredible service, very informative and polite people, absolutely no nonsense. Well worth the money as they use only the best quality parts. Couldn't recommend any higher.
Absolutely brilliant service. They are very fast and reliable. 100% will come back here If I have any issues with my electronics in the future
Provided an excellent service, above and beyond. Thank you from all of Us at Applecarte Distribution for making our tech a little more useable! Excellent service.
Device Doctors –
Who are we?
Device Doctors are a mobile, tablet and computer support and repair company that do things differently.

We bring the very best support to your door anywhere in Waterlooville or surround, whether that be for an in-home support session or a repair using the converted workspaces in the back of our vans, our goal is to make sure your tech usage is as easy and as worry-free as possible.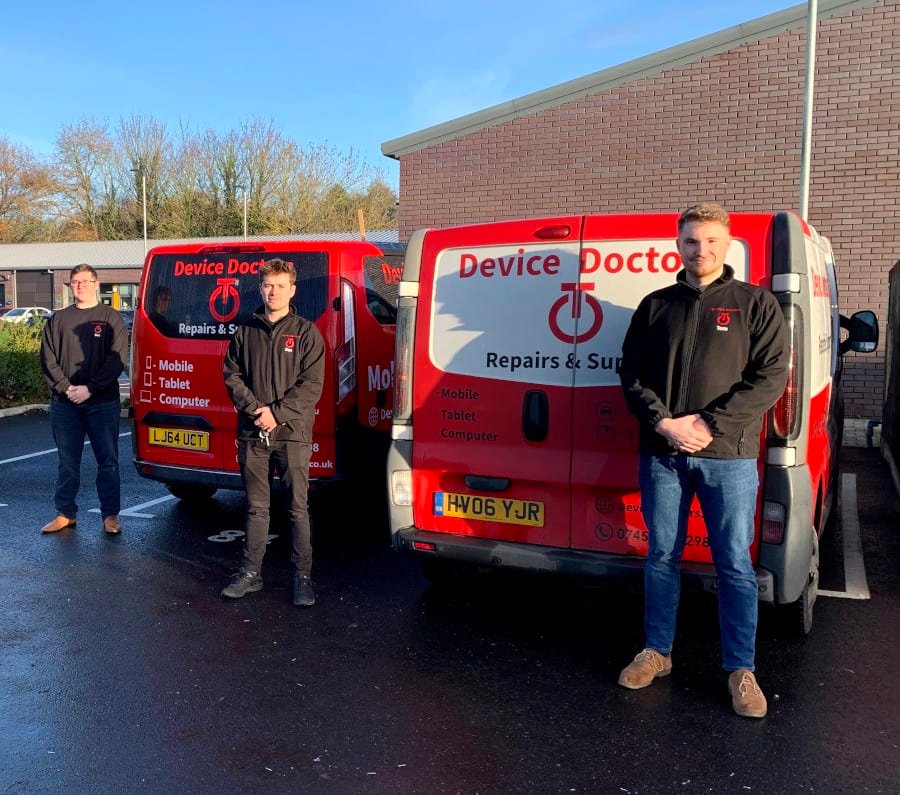 1 Service = 1 Tree
Our climate change pledge
For each repair we perform in Waterlooville, with the help of Tree-Nation, we will be planting a tree called a Dalbergia sissoo or Indian Rosewood, in Nepal. These trees reach 20-30m tall and have a lifetime CO2 offset of over half a ton at 580KG. We will be planting as part of the Eden Projects, which began in 2015 and has a main focus on restoring forests in areas of critical importance and improving local livelihoods.
The cost of repair will not change as a result of this, we just want to make sure we are both offsetting our companies emissions and helping to make a difference!